Saturday February 10th 2018 on the edge of Sheffield. 10.00am to 5.00pm.
Saturday March 10th in Monsal Dale in the Peak District. 10.00am to 5.00pm.
These one day courses, (which are the second part of our beginners' digital photography courses) will teach how you can start using your camera's controls for more creative results. The course locations have been carefully chosen for their range of subject matter – which will help you to learn how to control sharpness and blur in your images for creative effect by your use of shutter speeds and lens apertures. The courses will all feature photographing moving water – which is always one of the most popular subjects with our clients. We have tripods and filters available for you to borrow if necessary.
See below for more details of each course. Places cost £85.00 each (not including lunch), and there will be a maximum of only 6 people on each course. Please contact us if you would like a booking form, or if you require further information about any of our courses.
On November 18th, we will be in a little-known valley near Matlock in Derbyshire. Despite its short length, the valley is quite steep, and contains a series of spectacular waterfalls. It was once a hive of industrial activity, and there are the remains of several small mills dating back as far as the C17th, which have been preserved in a state of "romantic decay". The valley is at its best once the leaves have fallen from the trees, and the autumn colours provide a wonderful backdrop to the abundant subject matter. There are good paths down the valley, with gritstone steps in the steepest areas. Lunch will be in a nearby pub.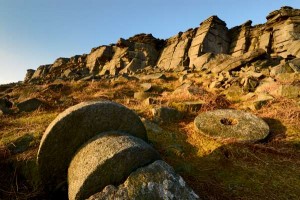 February 10th will find us on the moors near Fox House on the edge of Sheffield. The day will be split between photographing waterfalls in a lovely sheltered valley using long exposures, and spending time on the moors photographing the gritstone edges, abandoned millstones and other subjects. If we get lucky, we might even have some snow! The course runs from 10.00am to 5.00pm and lunch will be in a local pub.
As winter gives way to spring (hopefully!), we will be in the heart of the Peak District for our course on March 10th. Monsal Dale is beautiful at any time of year, but it has a special quality at this time of year – when there should be plenty of water coming over its magnificent weir, and the first wild flowers of spring coming into bloom. We will spend half the day here practising using long exposures to photograph the moving water (which is always extremely popular with our clients), then after a pub lunch we will go to another nearby location – chosen according to the light and weather conditions on the day. The course runs from 10.00am to 5.00pm.
Any sort of digital camera is suitable for these courses, but the most flexible ones are digital slrs (e.g. Nikon, Canon, Sony or Pentax) or mirrorless compact system cameras (eg Olympus, Panasonic, Fujifilm, Samsung and Sony). Compact and bridge cameras can still be used, but they do have certain limitations due to their small sensor sizes. A tripod will be essential, but we will be able to lend you one if you don't already have one (please let us know when booking if you need to borrow one). We also have a range of filters that you can borrow as well.
As this is Part 2 of our beginners' digital photography courses, it is assumed that you are already familiar with your camera's basic controls and the things which are covered on Part 1 of our courses for beginners – how to read histograms and set correct exposure, how to set focus and generally how to use your camera in other than "auto" mode. So if you are not sure how to do those things, it would be advisable to come on one of our Beginners' Digital Photography (Part 1) courses  first. You can see more details of exactly what is covered on our photography courses for beginners here, or contact us for advice on which course would be most suitable for you.