Saturday, July 21st from 10.00am to 6.00pm.
Please note: the date for this course has now passed, but you can see the dates for our upcoming photography courses here.
We are pleased to announce that our next landscape and nature photography course will take place on Saturday July 21st. It is once again being held at a Field Centre in the Derbyshire White Peak to which we have access (see here for details).
The Field Centre is a 170 year old cottage, in an absolutely stunning location at over 1000ft above sea level in the Peak District. It is part of a site which has special protected status both for its archaeological and conservation value. There is an amazing range of subjects for landscape photography, including big wide horizons, meadows, barns and drystone walls, still life subjects, and industrial archaeology. At this time of year, there is also plenty to keep the nature photographer busy – particularly those interested in wild flowers. The site has some of the best examples in the whole of the Peak District of the rare flora that grows on former lead mining areas. This included mountain pansies, leadwort, wild orchids and thousands of cowslips. They combine to create a carpet of colour such as is very rarely seen in Derbyshire these days.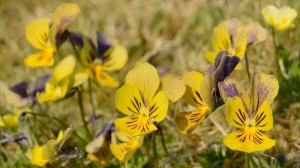 All of this is literally right outside the Field Centre that we will be based in. We will have a computer set up inside, so that you can download and view the images that you take straight away, and you will also have the chance to learn how to shoot and stitch together panoramic images, or try your hand at creating high dynamic range (HDR) images using Photomatix Pro software. If you are new to editing digital photographs, there will also be demonstrations of other software such as Adobe Photoshop and Adobe Lightroom - as well as more basic photo editing software such as iPhoto.
Because everything is right outside the cottage, very little walking will be involved during the day, so we can spend more time actually taking or editing photographs. The cottage itself is set well away from the nearest road, and has on-site parking. For food, you can either bring a packed lunch, or go to the local pub – which is only 10 minutes' walk away across the meadows. Tea, coffee and biscuits will be provided during the day.
The course costs £95.00 per person, and the number of places is limited to six. It will run from 10.00am to 6.00pm – with the possibility of us staying a bit longer if there promises to be a nice sunset (among all its other qualities, the site is a superb location for sunsets).
Please contact us if you would like further details, or to request a booking form.