A range of photography day courses and photo workshops at locations in the Peak District National Park, Derbyshire and Sheffield.
Whether you have just bought your first digital camera and want to learn the basics of digital photography, are moving up to the world of digital slr photography, or want to learn how to get off the auto modes and start using your camera more creatively, Peak Digital Training can offer a variety of courses to help you improve your techniques and get more from your photography.
Our group numbers are deliberately kept small – no more than six people – which means that our training is very flexible and easily adapted to the specific needs and level of experience of our participants.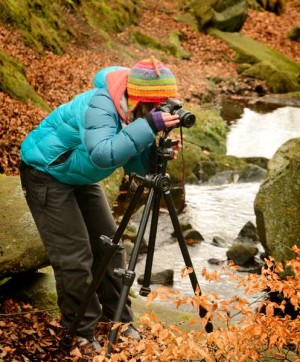 Our one day courses and digital photography workshops are practical outdoor courses teaching digital photography techniques. All our digital camera training takes place in or around the magnificent Peak District, where the extensive local knowledge of our tutors means that you will visit some of the best locations for photography that Derbyshire has to offer at the particular time of year. The emphasis is on landscape and nature photography, but the techniques that we teach are equally relevant to many other areas of photography. Courses can cover such topics as:
digital photography for beginners – including composition, exposure, focussing and white balance
digital slr photography – including shooting in JPEG or RAW formats, using different lenses and filters, and using a tripod
landscape photography - including techniques such as hdr photography and creating panoramas
These courses are suitable for anyone with a camera that has manual modes – whether it is a digital slr, mirrorless or bridge camera. The camera brand is unimportant – we have taught users of Nikon, Canon, Sony, Panasonic, Fuji, Olympus, Pentax, Casio and Kodak cameras. Our emphasis is always on teaching solid photographic techniques, rather than about lots of technical jargon and accessories. Apart from your camera, its instruction manual, and enough memory cards and batteries for the day, a tripod is very useful (though not essential) on these courses. In addition, please bear in mind that we will be outdoors, and a certain amount of walking – often over rough ground – will be involved, so stout footwear and adequate outdoor clothing is necessary. However, the walking will not be strenuous, and will be suitable for anyone who is reasonably fit.
For further details of our upcoming courses, please see our news page, or contact us with details of your requirements – or to be put on our email list and kept informed of new courses as they are announced.
If a full day of photography training in the field is more than you require, we may also be able to divide the day between taking photographs and editing them with software such as Adobe Lightroom or Adobe Photoshop. These courses give an overview of each stage of taking and editing digital photographs, and are particularly recommended for those new to digital photography, who would like to learn how to do more with their photographs but are unsure where to start.