Saturday December 8th near Matlock in Derbyshire. 9.30am to 4.00pm.
Saturday February 2nd 2019 near Fox House on the edge of Sheffield. 9.30am to 4.30pm. More details can be seen

here

.
Saturday March 16th 2019 in Monsal Dale in the Peak District. 10.00am to 5.00pm.
Saturday April 20th 2019 in Lathkill Dale in the Peak District. 10.00am to 5.00pm.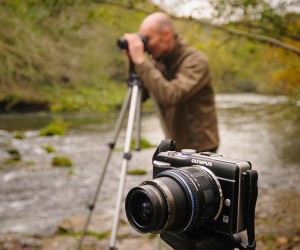 These one day courses, (which are the second part of our beginners' digital photography courses) will teach how you can start using your camera's controls for more creative results. The course locations have been carefully chosen and timed so that their range of subject matter is looking at its best. The courses will all feature photographing moving water (always one of the most popular subjects with our clients) so you can learn how to control sharpness and blur in your images for creative effect by your use of shutter speeds and lens apertures. We will have tripods and filters available for you to borrow if necessary.
See below for more details of each course. Places cost £85.00 each (not including lunch), and there will be a maximum of only 6 people on each course. Please contact us if you would like a booking form, or if you require further information about any of our courses.
The courses on November 17th and February 2nd will both be held on the moors close to the edge of Sheffield (near Fox House). In November, this is a great area for autumn colours – with plenty of birch and oak woodland to provide a colourful carpet of leaves. In February, the bracken should have died back to reveal the hundreds of millstones left where they were quarried on the gritstone moorlands. We will divide the day between the moors and a beautiful little valley with plenty of waterfalls for practising long exposure techniques with moving water. Lunch (not included in the course price) will be in a local pub. Each course runs from 9.30am to 4.30pm – so the November date will include "golden hour" light and sunset if weather conditions are suitable as an added bonus. These courses are also accessible via public transport from Sheffield.
On Saturday, December 8th we will be in a beautiful little valley near Matlock in Derbyshire. In a very short distance, the stream drops over 200ft in height, providing a good number of natural waterfalls and weirs for us to photograph (including one of the highest waterfalls in Derbyshire). The valley also contains several old mills in a state of picturesque decay, which provide plenty of additional subject matter. The valley is probably at its best at this time of year once the leaves have fallen from the trees, and their colours provide a wonderful backdrop to the waterfalls and mill buildings. The course runs from 9.30am to 4.00pm, with lunch in a nearby pub (not included in the course price). Because the valley is so compact, there is little walking involved on this course, and while the valley is quite steep in places, there are good paths and steps, so it does not require any special fitness level.
We will be back in the heart of the Peak District in Monsal Dale for our course on March 16th. While most famous for its railway viaduct, this dale has a lot more to offer photographers. We will be spending half of the day around its impressive weir (which should have plenty of water flowing over it at this time of year) seeing how to get completely different results by varying shutter speeds. Getting to the weir will involve walking just over half a mile from our meeting place. Then, after lunch in a nearby pub, we will go to a second location which we will choose on the day depending on weather and light conditions, but which will involve minimal walking. The course runs from 10.00am to 5.00pm,
Moving water will also feature heavily in our course on April 20th, which will take place in Lathkill Dale in the Peak District. The images above were taken on one of our courses in the dale in winter by Andrew Procter. On this course, we will spend the morning photographing the numerous weirs and pools at the bottom end of the dale, experimenting using long exposures with the moving water. Then after lunch at the Lathkil Hotel, we will head back into the dale to photograph some of the lead mining or quarrying remains, limestone cliffs, caves, spring flowers or other subjects which can be found in abundance. Some walking will be involved on this course, as the dale is steep-sided with few access points, but it will not be more than a mile at most.
Any sort of digital camera is suitable for these courses, but the most flexible ones are digital slrs (e.g. Nikon, Canon, Sony or Pentax) or mirrorless compact system cameras (eg Olympus, Panasonic, Fujifilm, Sony and Samsung). Compact and bridge cameras can still be used, but they do have certain limitations due to their small sensor sizes. A tripod will be essential, but we will be able to lend you one if you don't already have one (please let us know when booking if you need to borrow one). We also have a range of filters that you can borrow as well.
As this is Part 2 of our beginners' digital photography courses, it is assumed that you are already familiar with your camera's basic controls and the things which are covered on Part 1 of our courses for beginners – how to read histograms and set correct exposure, how to set focus and generally how to use your camera in other than "auto" mode. So if you are not sure how to do those things, it would be advisable to come on one of our Beginners' Digital Photography (Part 1) courses first. You can see more details of exactly what is covered on our photography courses for beginners here, or contact us for advice on which course would be most suitable for you.