Saturday November 23rd near Matlock in Derbyshire. 9.30am to 4.30pm.

Only two places still available.
Places cost £85.00 each (not including lunch), and there will be a maximum of only 6 people on the course. See below for further details about the course itself.
Please contact us if you would like a booking form, or if you require further information about any of our other courses.
Our course on November 23rd will take place in a sheltered little valley near Matlock, in Derbyshire. Although quite short, the valley drops over 200ft in height from the top to the bottom. It contains some of the finest waterfalls and weirs in the whole of Derbyshire, so you will be able to get some beautiful shots of moving water using slow shutter speeds. There are also several picturesque old mills in the valley, whose stonework and mosses provide some lovely textures for still life shots. Autumn is really the best time of year to photograph this valley, as the carpet of colourful leaves really enhances the other subjects. We don't need a sunny day for this course (in fact overcast conditions would be best), but as the sun sets about 30 minutes before the end of the course, we will also be able to get some great golden hour and sunset shots if the light is suitable.
As the valley is so compact, there is little walking involved, and although it is steep in places, there are good paths and steps – so it should be well within the physical abilities of most people. Here are a series of photos taken there on a previous course by Laura Wharton:
These one day courses are the logical next step for anyone who has already been on Part 1 of our
beginners' digital photography courses,
but they are equally suitable for other photographers who already understand the basics of photography, as they teach how you can start using your camera's
controls
for more
creative results
. The courses all involve a full day's outdoors photography, in locations that have been carefully chosen and timed so that their range of subject matter is looking at its best.
They all feature photographing
moving water
(always one of the most popular subjects with our clients) so y
ou can learn how to control sharpness and blur in your images for creative effect by your use of
shutter speeds
and
lens apertures.
A tripod will be essential for this course, but we will be able to lend you one if you don't already have one (please let us know when booking if you need to borrow one), and we also have a range of filters that you can borrow as well.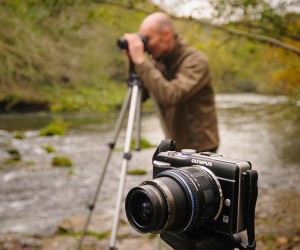 Any sort of digital camera is suitable for these courses, but the most flexible ones are digital slrs (e.g. Nikon, Canon, Sony or Pentax) or mirrorless compact system cameras (eg Olympus, Panasonic, Fujifilm, Sony and Samsung). Compact and bridge cameras can still be used, but they do have certain limitations due to their small sensor sizes.
As this is Part 2 of our beginners' digital photography courses, you will get a lot more from the course if you are already familiar with your camera's basic controls and the things which are covered on our Beginners' Digital Photography (Part 1) courses – how to read histograms and set correct exposure, how to set focus and generally how to use your camera in other than "auto" mode. So if you are not sure how to do those things, you are strongly advised to come on one of our Beginners' Digital Photography (Part 1) courses first. You can see the dates of those courses here, or contact us for advice on which course would be most suitable for you.