Saturday August 1st – 10.ooam to 5.00pm. £90.00 per person.
There will be a maximum of only four photographers on this intermediate level landscape photography course to allow everyone to get plenty of personal attention and to enable adequate social distancing. We will be visiting 3 different locations over the course of the day to photograph some of our clients' favourite subjects: waterfalls, a disused quarry with photogenic ruined buildings, and some heather moorland as it comes into flower and turns purple. One of the advantages of this course is that the locations that we will visit are all easily accessible – no more than a few hundred yards from where we can park our cars. The walking is also easy along well established paths and tracks.
Please contact us to request a booking form, or if you need any further information about the course.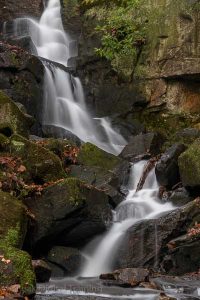 We will spend the first part of the day in a wooded valley near Matlock practising using long exposures to photograph the spectacular waterfalls. The valley is short but steep – it drops over 200ft in the space of just a few hundred yards. The stream which flows down it has been used to power a whole series of water wheels for centuries, and the remains of several mills are still there today – preserved in a state of "romantic decay".
A tripod will be needed for the long exposures (but we have some that you can borrow if you don't already have one of your own), and we also have sets of various filters that you can borrow as well.
Our next location will be a former large sandstone
quarry which has been recolonised by nature, but still has plenty of interesting features from its industrial past. Apart from the sheer quarry faces, there are abandoned millstones, a well-preserved blacksmith's forge and a large stone cutting shed – all of which make for some great subject matter. Again, this location is only a short walk from our cars, and very easy walking.
We will have a break for lunch, which will be at a local pub (coronavirus restrictions permitting) or else you can bring a packed lunch if you prefer.
We will spend the rest of the day on Stanton Moor, which should be looking spectacular at this time as the purple heather comes into flower – and which also has splendid views over the surrounding area. Stanton Moor is one of Britain's most important archaeological landscapes, and a large part of it has been designated as a Scheduled Monument because of the archaeological significance of its features from the Bronze Age to the present day. They include stone circles, over 30 burial cairns, and paved packhorse roads. There are also numerous relics of the C20th quarrying industry, including the remains of buildings and quarry cranes, and abandoned millstones. Of particular interest to us photographers are several natural stone outcrops and sandstone pillars – including the famous Cork Stone which makes a great subject for long exposure skyscapes if cloud conditions are right.
The course will finish at 5.00pm.
As this is an intermediate – rather than beginners' level – course, it is important that you are already familiar with the basics of photography and how to use your camera in other than the "all-automatic" mode. If you are not confident about how to use shutter speeds, lens apertures and ISO to control exposure, and how to focus your camera, please come on one of our beginners' level digital photography courses first, where we teach those skills.
Subjects covered on this course may include:
composition for picture impact
creative use of lens apertures, shutter speeds and different types of lenses
how and when to use different types of filters on your lenses
how to get the colours looking the way you want them in your photos
tips for shooting in RAW format for maximum quality
shooting in fully manual (M) mode
correct use of tripods
Please contact us to request a booking form, or if you need any further information about this course.
We also run landscape and beginners' level courses in other local areas. See here for details of all our other digital photography courses near Sheffield and in the Peak District.