If you've been wanting to learn how to get off your camera's "auto" mode, these courses are perfect for you!
Our beginners' level courses are suitable for newcomers to photography, and any make or type of digital camera – from compact "point-and shoot" cameras to bridge, "superzoom", travel, mirrorless, compact system cameras and digital slrs. Provided your camera can be used in something other than "all-auto" or "scene" modes, its make is unimportant – we have taught users of Canon, Casio, Fujifilm, Kodak, Nikon, Olympus, Panasonic, Pentax, Samsung, and Sony cameras.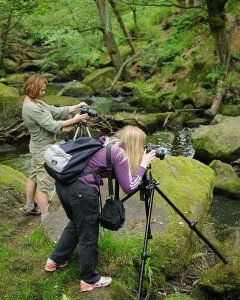 We limit our one day beginners' photography courses to no more than 6 people, so you are able to learn at your own pace, and receive plenty of individual attention from the tutor. In addition, you will receives printed notes telling you exactly how to set the most important settings for your particular make and model of camera.
See here for dates of our next beginners' photography courses in Derbyshire.
See here for dates of our next beginners' photography courses near Sheffield.
See here for dates of our next beginners' photography courses in the Peak District.
This is what a lady who came on one of our recent beginners' courses had to say about it: "I really enjoyed the course on Saturday. I learnt a lot and it was fun! You had such enthusiasm, both for the location and photography in general. I was impressed that you made the teaching relevant to each of our camera models rather than more general. I have been telling my friends all about how good it was…."
Adrian wrote: "My son and I went on the beginners course recently… I cannot stress how good this course is… I went on a Canon course in London, which covered so much I ended up being more confused than before I went… Chris runs this course at just the right level and speed, gauging how you are coping and catering to your needs."
You can see what other clients have had to say about our photography training courses here.
We run beginners' courses throughout the year, at locations close to Sheffield, in Derbyshire, and especially in the Peak District. See here for dates of our next beginners' photography courses.
Our photography courses for beginners come in two parts:
Beginners' Digital Photography Part 1
is all about getting off the "auto" modes and learning about your camera's most important settings. This course is equally suitable for any type of digital camera – from compacts to digital slrs. We show you the most important controls and menu items on your camera, explain in plain english what they do, and show you exactly how to set them. You will learn how to:
avoid blurred pictures by setting the correct shutter speed
set the focus point exactly where you want it
get correct exposure in your photographs
get colours the way you want them to look
learn about the information your camera gives you, and how to use it
Beginners' Digital Photography Part 2
is about starting to use your camera more creatively. These courses are most suitable for users of mirrorless compact system cameras and digital slrs, though other cameras can also be used (with certain limitations if they have small sensors). On these courses you will learn:
how to use shutter speeds and lens apertures to creatively control areas of sharpness and blur in your pictures
basic composition techniques
why using a tripod properly is so important
See here for details of Part 2 of our beginners' digital photography courses in Derbyshire and Sheffield.
If you are a relatively inexperienced photographer, we recommend coming on Part 1 of the course first. If you already understand the basics of photography, then Part 2 of the course may be better for you. If you are unsure which course would be most suitable, please contact us so that we can advise you.