Saturday February 17th – 10.00 am to 5.30 pm. Places available.
This course will be limited to just 4 photographers, with places costing £99.00 each. Please contact us to request a booking form, or if you need any further information about this course.
This intermediate level course will explore some of the wonderful photographic subjects around Stanton Moor, between Bakewell and Matlock in the Peak District. The first part of the day will be spent photographing industrial remains in one of the former sandstone quarries which surround the moor. Stanton Moor has long been prized for its fine grained stone for centuries (the paving for Trafalgar Square came from here), and the quarry we will visit still retains plenty of interesting features from its industrial past – though they have now been softened and partly reclaimed by nature.
Apart from the impressive quarry faces, there are abandoned millstones, a well-preserved blacksmith's forge and a large stone cutting shed (see below) – all of which make for some great subject matter.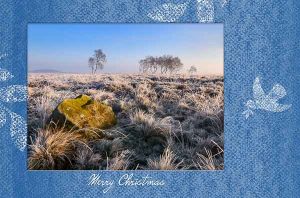 This Christmas, we are also offering a special gift voucher for our courses. Great value at £99.00, ordered online and valid for the whole of 2024, you can see full details here.
On this page you can see some of the images taken by our clients on previous courses on Stanton Moor.
The low light of winter makes this a great time for photographing these subjects – all of which are within easy walking distance from where we will park. You do not need to be particularly fit for this course, though it is not suitable for people with mobility problems.
After lunch in a nearby pub (or you can bring a packed lunch if you prefer), we will go to one or more other locations nearby.

Last year, we were lucky enough to have some snow and a spectacular temperature inversion for the course, but there are plenty of other subjects in the area. These could include a lovely little stone circle tucked away in woodlands, or the famous Cork Stone. As well as being a fine subject in its own right, this natural sandstone outcrop also a great subject for long exposure skycapes if cloud conditions are suitable.
This area is also a great location for sunsets, and as the course will run until after sunset at 5.15pm, we will be able to take photos during golden hour as well as at sunset if the conditions permit.
This Peak District landscape photography course is suitable for any type of digital stills camera that allows you to control the settings – in particular shutter speeds and apertures. The most suitable cameras are digital slr or mirrorless cameras that have interchangeable lenses, but compact and bridge cameras may also be suitable (though some have certain limitations due to their small sensor sizes, and whether or not filters can be attached to them). Please contact us for advice if you are unsure whether your camera is suitable.
A tripod will be needed for this course (but we have some that you can borrow if you don't already have one of your own), and we also have sets of various filters (neutral density, graduated neutral density and polarising) that you can borrow as well.
As this is an intermediate – rather than beginners' level – course, it is important that you are already familiar with the basics of photography and how to use your camera in other than the "all-automatic" mode. If you are not confident about how to use shutter speeds, lens apertures and ISO to control exposure, and how to focus your camera, please come on one of our beginners' level digital photography courses first, where we teach those skills.
Subjects covered on this course may include:
composition for picture impact
creative use of lens apertures, shutter speeds and different types of lenses
how and when to use different types of filters on your lenses
how to get the colours looking the way you want them in your photos
tips for shooting in RAW format for maximum quality
shooting in fully manual (M) mode
correct use of tripods
Please contact us to request a booking form, or if you need any further information about this course.
We also run landscape and beginners' level courses in other local areas. See here for details of all our other digital photography courses near Sheffield and in the Peak District.