Peak Digital Training offers a range of one day photography workshops throughout the year at fantastic locations in and around Derbyshire and the Peak District. Whether you have just bought your first digital camera and want to learn what its buttons and dials do, or you are already a more experienced photographer who wants to learn to use your camera to its full potential to make better and more creative photographs, we have a course that's right for you.
See here for details of all our current digital photography courses in the Derbyshire Peak District, Sheffield and South Yorkshire areas.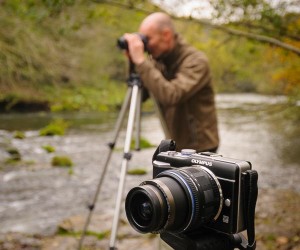 Our courses are not just for owners of digital slrs – they are suitable for any digital camera provided it can be used in other than "all-auto" or "scene" modes – whether it is compact camera, travelzoom, bridge, mirrorless, or dslr. The actual make is unimportant – we have taught users of well over two hundred different camera models from Canon, Nikon, Sony, Panasonic, Fujifilm, Olympus, Pentax, Ricoh, Samsung, Casio and Kodak. Our emphasis is always on teaching solid photographic techniques – techniques that are relevant not just to your current camera, but also to any others that you will own in the future.
All you need to come on our courses is your camera, its instruction manual, and enough memory cards and batteries for the day. A tripod is also useful if you have one (but we have several for loan if you haven't), and we also have several sets of filters that you can borrow for our landscape photography courses. Your enthusiasm and creativity are much more important than a bag full of accessories! Our aim is to help you get the most from what you already have, rather than making you go out and spend lots of money. All the advice we give is completely independent – we have no commercial ties to any manufacturers or suppliers, and all the equipment we use ourselves or loan to clients on our courses has been selected purely on its merits and actually paid for with our own hard earned cash!
Our courses are run in a relaxed and informal atmosphere, and designed to bring together people with similar levels of ability. Group numbers are deliberately kept small so that our workshops are flexible and easily adapted to suit the specific needs and level of experience of the participants – as well as allowing for proper social distancing.
Beginners' Photography Courses
If you've been wanting to learn how to get off your camera's "auto" mode, these courses are perfect for you!
No matter what your favourite sorts of subjects are, if you want to rise above the average and make photographs rather than just taking snaps, you need to take control of your camera, instead of letting it make all the decisions for you.
Our beginners' courses assume no prior knowledge of photography – so they are ideal for people who have just bought their first dedicated camera and have only been using their smartphone to take photos, or those who have only been using their camera in "auto" mode and would like to learn how to use it to its full potential. Everyone on these courses receives a printed sheet for their particular make and model of camera, telling you which are its most important controls and menu items, showing you where to find them, explaining in plain english what they do, and showing you exactly how to set them. You will learn:
what the different shooting modes are, and when to use them
how to get correct exposure in your photographs by using the correct combinations of shutter speeds, lens apertures and ISO
how to avoid blurred pictures by setting the correct shutter speed
how to set the focus point exactly where you want it
get colours in your images the way you want them to look
learn about the information your camera gives you both before and after exposures, and how to understand it
We limit our one day beginners' photography courses to small group sizes, so you are able to learn at your own pace, and have plenty of time to get your questions answered. The courses are usually held in a nice warm village hall near Matlock during the colder months, or at a private field centre in a stunning Peak District location near Bakewell over the summer. They are a mixture of classroom based teaching and practice outdoors (so they are not as dependant on the weather as most other courses), and involve very little walking. The courses are held at least once a month throughout the year – mainly on Saturdays – and usually last about 7 hours (with a break for lunch in a nearby pub). See here for the dates of our next beginners' photography courses in the Derbyshire Peak District.
We also run beginners' level courses near Sheffield – see details of those here.
Here's what one of our clients wrote in his review of the course on Google:
"My son and I went on the beginners course recently… I cannot stress how good this course is… I went on a Canon course in London, which covered so much I ended up being more confused than before I went… Chris runs this course at just the right level and speed, gauging how you are coping and catering to your needs."
You can read more testimonials from our satisfied clients here.
Landscape Photography Courses
Our intermediate level landscape photography courses are designed for more experienced photographers, and are the logical progression from our beginners' level courses. They involve a day's outdoor photography in various beautiful locations around Derbyshire and the Peak District, which are selected to be looking at their best at the particular time of year.
Our course trainer has been walking and photographing the Peak District for almost 40 years, so he knows plenty of sites that are both less visited and also very accessible – one of the reasons why people come on our courses again and again. We plan these courses carefully so that we spend the minimum amount of time walking to locations, and the maximum amount of time actually taking photographs. Some walking will be required of course, but we tend to keep to tracks and footpaths, and aim to limit it to no more than about 15 minutes' walk from our vehicles – so these courses should be well within the physical capabilities of most people.
The whole point of these courses is to allow you to immerse yourself in your photography for the day, and group sizes are limited to 4 people to ensure everyone gets plenty of individual attention.
Courses are timed to take advantage of the light when it is at its best in the particular locations where we will be shooting, and often include staying out for "golden hour" and sunset. You can see more details about our current Peak District landscape photography courses here.
On these courses, it is assumed that you already know what the buttons and dials on your camera do, so we concentrate more on the creative side of photography. Subjects covered may include:
composition for picture impact
creative use of lens apertures, shutter speeds and focal length
how to get the colours looking the way you want them in your photos
tips for shooting in RAW format for maximum quality
shooting in fully manual (M) mode
how and when to use different types of filters on your lenses
correct tripod technique
If you don't already own filters and a tripod, don't worry as we have some that you can borrow on the day.
We also run occasional courses on more specific topics such as sunset and night photography, wild flower and close-up photography, long exposure photography and workshops specifically for owners of Nikon digital slrs.
Please see here for the dates and details of all the one day photography courses that we currently have planned in Derbyshire.
Adobe Lightroom Training
We can also offer software training on how to edit your photos using Adobe Lightroom on a 1 to 1 basis – either in person or via video link. For more details, please see our Adobe Lightroom Training Courses page.
If you would like to be the first to know when we announce new course dates, you can also sign up for our email newsletter here.