Saturday March 21st – 10.30am to 6.30pm.

Four places available. Cost: £90.00 per person.

Fully booked.
This course is being held on the edge of Sheffield, in the area around Fox House and Stanage Edge, and is readily accessible by public transport from Sheffield. To make sure that you get plenty of individual attention and can have your questions answered, numbers will be limited to a maximum of only four people. Please contact us here to request a booking form.
The area has a wealth of subject matter for the landscape photographer, with high gritstone edges, abandoned millstones, natural rock formations and a beautiful wooded valley with lots of little waterfalls, as well as superb views over the Dark Peak for sunsets.
The course will be divided into two parts, with lunch in a local pub or tearoom (not included in the course price) – where we will also have a chance to review your photos from the morning on the laptop.
Part of the day will be spent photographing the waterfalls and moving water in a sheltered little valley, where you will have the chance to experiment with different shutter speeds and long exposures. You will need a tripod for this (but we have some that you can borrow if you don't already have one of your own), and we also have some sets of filters that you can borrow for use with the moving water and waterfalls.
The other half of the day will be spent up on the moors, in an area which has superb views over the Dark Peak to the west. Since sunset will be at 6.15pm, we will be able to get some great shots in golden hour light and at sunset if conditions permit (the shot at the top of this page and this picture of the millstones were both taken at Stanage Edge in March). Many people are
surprised to learn that this area was the scene of industrial activity for centuries – as shown by the hundreds of abandoned millstones on the hillsides, old packhorse roads, gritstone quarry faces and quarry buildings, and even remains of coal mining (if you know what to look for). Many of these features are very difficult to photograph for much of the year when they are hidden by the bracken, but this course has been timed so that we can shoot them when they are looking at their best (when the bracken has died back and hopefully been flattened by some winter snow). As most people don't even know that these features exist, we should hopefully also have them to ourselves!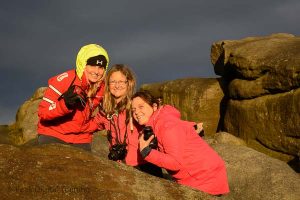 Some wild weather can produce fantastic images out on the moors, but if it is too wild, we will avoid the most exposed locations as there are plenty of more sheltered places nearby that we can concentrate on. The locations we will be using are all quite accessible, so we can spend the minimum amount of time walking to locations, and the maximum time actually taking photographs. Even if we go to Stanage Edge (the highest point), the walk will be no more than 1/2 mile and involve about 350ft of ascent from our vehicles – so it should be well within the capabilities of anyone who is reasonably fit (though it is not suitable for people who have mobility problems). We will be on moorland where the paths are often rough and uneven, and there will probably be some muddy and boggy areas, so stout footwear with good grip is strongly advised, as is appropriate outdoor clothing for the time of year.
As these are all intermediate, rather than beginners' level courses, it is important that you are already familiar with the basics of photography and how to use your camera in other than the "all-automatic" mode. If you are not confident about how to use shutter speeds, lens apertures and ISO to control exposure, and how to focus your camera, please look at our beginners' level digital photography courses where we teach those skills.
On these landscape photography courses, we concentrate less on what the buttons and dials on your camera do, and more on the creative side of photography. Subjects covered include:
composition for picture impact
creative use of lens apertures, shutter speeds and different types of lenses
how to get the colours looking the way you want them in your photos
tips for shooting in RAW format for maximum quality
shooting in fully manual (M) mode
how and when to use different types of filters on your lenses
correct tripod technique
Our landscape photography courses are most suitable for owners of digital slr or mirrorless cameras that have interchangeable lenses – whether it is Nikon, Canon, Sony, Pentax, Ricoh, Panasonic, Olympus, Fuji, Samsung or any other make. Compact and bridge cameras may also be suitable, but some may have certain limitations due to their small sensor sizes, and whether or not filters can be attached to them. Please contact us for advice if you are unsure whether your camera is suitable.
Please contact us to request a booking form, or if you need any further information about this course.
We also run landscape and beginners' level courses in other parts of the Peak District. See here for details of all our other digital photography courses we currently have scheduled.