We would like to reassure our clients that they can confidently book a place on a course

during the coronavirus pandemic

in the knowledge that, if the course has to be postponed, we will do our best to reschedule it at a later date. If we are not able to do so, you will be offered a place on an alternative course or a refund of the course fee. See here for further details.
Saturday June 6th – 10.00am to 5.00pm.
Saturday July 18th – 10.00am to 5.00pm.
Saturday August 8th – 10.00am to 5.00pm.
These practical one day courses are all limited to a maximum of 4 persons, and places cost £90.00 each. Please contact us to request a booking form, or if you need any further information about the courses.
"Chris is a patient and painstaking teacher who works hard to build up a good rapport with all his students. The class was small so people could get individual attention and I discovered a lot of things about my camera that I never even knew existed prior to the course but above all how to use them. A thoroughly worthwhile experience." David.
You can see what other clients have said about our courses here.
These courses are all being held in the area around Fox House, on the edge of Sheffield, and are accessible by public transport.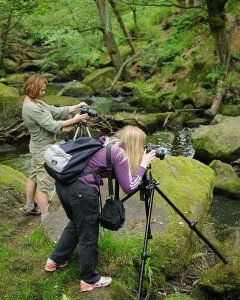 No prior knowledge of photography is required for these courses – so they are ideal for people who have just bought their first dedicated camera and have only previously used a smartphone to take photos, as well as those who have only been using their camera in "auto" mode and would like to learn how to use it to its full potential. The courses are not just for owners of digital slrs but are suitable for any type of digital camera provided it can be used in other than "all-auto" or "scene" modes – whether it is a compact "point and shoot" camera, travelzoom, bridge, mirrorless, or dslr – we will teach you about the basic controls and settings that will help you make better and more creative photos. Our emphasis is always on teaching solid photographic techniques – techniques that are relevant not just to your current camera, but also to any others that you will own in the future. In addition, everyone coming on these courses receives a printed sheet for their particular make and model of camera, telling you what its most important controls and menu items are, showing you where to find them, explaining in plain english what they do, and showing you exactly how to set them. We will mainly photographing landscape subjects, but the techniques you will learn are equally applicable to most types of subjects.
On these courses, you will learn:
what the different shooting modes on your camera are, and when to use them
how to get correct exposure in your photographs by using the right combinations of shutter speeds, lens apertures and ISO
how to avoid blurred pictures by setting the correct shutter speed
how to set the focus point exactly where you want it
get colours in your images the way you want them to look
learn about the information your camera gives you both before and after exposures, and how to understand it
These are practical courses, and we will be outdoors for the whole day – apart from at lunch, when we will go to a local tearoom or pub (not included in the course price). There we will also have a chance to review your photos from the morning on our laptop. Some walking will obviously be required during the day, but it will be kept to a minimum and not strenuous. Walking boots and appropriate outdoor clothing for the time of year are recommended.
All you need to bring on our courses is your camera, its instruction manual, and enough memory cards and batteries for the day. A tripod is also useful if you have one (but we have several for loan if you haven't). Your enthusiasm and creativity are much more important than a bag full of accessories! Our aim is to help you get the most from what you already have, rather than making you go out and spend lots of money. All the advice we give is completely independent – we have no commercial ties to any manufacturers or suppliers, and all the equipment we use ourselves or loan to clients on our courses has been selected purely on its merits and actually paid for with our own hard earned cash!
We also run beginners' and landscape photography courses in other parts of the Peak District. See here for details of all our other digital photography courses that we currently have scheduled.