Our next landscape photography courses in the Derbyshire Peak District will be taking place on the dates below.
All courses are limited to small groups of just 4 photographers to allow everyone to receive plenty of individual attention. Places cost £99.00 each.
C

lick here to request a

booking form

,

or if you need any further information.
An intermediate level course running from 10.00am until after sunset. Learn how to make beautiful photographs of moving water and other subjects in low light conditions in one of the Peak District's most beautiful valleys. Limited to just 4 photographers, with places costing £99.00 each. Places available.
A full winter day's intermediate level landscape photography course with photogenic industrial subjects, a stone circle and natural rock formations right up to, and including, sunset. Held on and around Stanton Moor in the Peak District between Bakewell and Matlock. Limited to just 4 photographers, with places costing £99.00 each. Places available.
An intermediate level course being held in the area around Fox House (on the edge of Sheffield). Featuring a wonderful range of subjects – including waterfalls, colourful woodlands, old millstones, and natural gritstone rock outcrops until after sunset. Limited to just 4 photographers, with places costing £99.00 each. Places available.
A full day's course timed to capture the springtime display of bluebells at their peak! Half of the day will be spent in some of the finest bluebell woods in the Peak District, and the rest of the time at other nearby locations. Easy walking, and limited to just 4 photographers. Places cost £99.00 each. Places available.
Our landscape photography courses are all held at a range of beautiful locations in Derbyshire or on the edge of Sheffield. We try to avoid the crowds at the most popular spots in favour of quieter areas, which are carefully chosen to be looking at their best at the particular time of year. One of the most popular subjects with clients is using long exposures with moving water, so we try to incorporate some waterfall photography into most of our courses.
The other subjects available will depend on where the course is being held. At different times of the year, we take advantage of subjects such as bluebell woods in the spring, wild flower meadows in summer, purple moorland when the heather is in flower, or autumn colours – but we always take care to provide you with a range of great subject matter on all our courses. Sometimes we stay out until sunset time, so locations are then selected which allow us to take full advantage of "golden hour" and sunset light as well. You can see a selection of lovely images taken by clients on our courses below.
"A huge thank you for yesterday's photography course, I had a great day, thoroughly enjoyed it and am rather pleased with the results.
The day helped to reinforce what we had learned on the first course and more. It was lovely to have the luxury of a day purely dedicated to taking photos and benefitting from your experience and knowledge." Janet
You can also read many of the kind comments we have received from some of our hundreds of satisfied clients here.
The whole point of these courses is to allow you to immerse yourself in your photography for the day. We are fortunate that the Peak District has so many wonderful locations that are also very accessible. We plan these courses carefully so that we spend the minimum amount of time walking to locations, and the maximum amount of time actually taking photographs. Some walking will be required of course, but we tend to keep to tracks and footpaths, and aim to limit it to no more than about 15 minutes' walk from our vehicles – so these courses should be well within the physical capabilities of most people.
Depending on the course locations, we may be walking on moorland where the paths are often rough and uneven, and there could be muddy or boggy areas. If we are in the White Peak, we may have stiles to cross to get over drystone walls, so that should be borne in mind as well. If you have any mobility or health problems that could affect your participation in the courses, you are advised to contact us before booking to enquire about the level of physical fitness required.
Courses usually last between 7 and 8 hours, with a break for lunch. That also allows us to check the morning's work on the laptop that we bring along. As we spend the rest of the day in the great outdoors, outdoor clothing which is appropriate for the time of year is necessary. Normal walking gear is fine and hiking boots are strongly advised, but no other special equipment is generally required (if it is, it will be mentioned in the course description).
As our landscape courses are intended for more experienced photographers, we assume that you already know what the buttons and dials on your camera do, and concentrate more on showing you how to use your camera more creatively. Subjects covered may include:
composition for picture impact
creative use of lens apertures, shutter speeds and focal length
how to get the colours looking the way you want them in your photos
tips for shooting in RAW format for maximum quality
shooting in fully manual (M) mode
how and when to use different types of filters on your lenses
correct tripod technique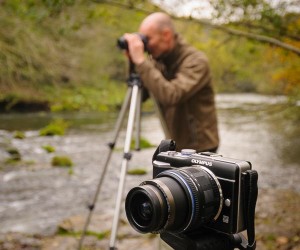 Our landscape photography courses are most suitable for digital sir, mirrorless or any type of interchangeable lens camera – whether it is Canon, Nikon, Sony, Pentax, Panasonic, Olympus, Fuji, Samsung or any other make. Many compact and bridge cameras are also suitable, but some have certain limitations due to lack of manual controls, and whether or not filters can be attached to them. Please contact us for advice if you are unsure whether your camera is suitable. A tripod will also be essential on these courses, but we have several good sturdy ones for loan if you don't already have one, and we also have several sets of filters (neutral density, graduated neutral density and polarising) that you can borrow as well.
As these are all intermediate level rather than beginners' level courses, it is important that you are already familiar with the basics of photography and how to use your camera in other than the "all-automatic" and scene modes. If you are not confident about how to set correct exposure, use exposure compensation, read histograms, and set the exact point of focus, please see here for details of our beginners' digital photography courses where we teach those skills.
If these course dates are not convenient for you, why not consider some one to one photography training which can be arranged at a place and time that best suits you?