Saturday March 16th – 10.30pm to 6.30pm. Places cost £99.00 each. Places available.
This intermediate level landscape photography course will be held in the area around Fox House (on to the border with Sheffield). It will start at 10.30am, and run until 6.30pm – just after sunset.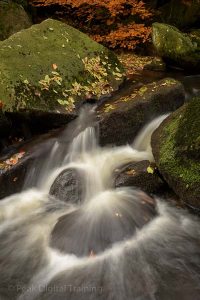 To allow all participants to get plenty of individual attention, the course will be limited to just four photographers, with places costing £99.00 each.
This course is also accessible by public transport.
This edge of the Peak District offers a wonderful range of subjects – including waterfalls, colourful oak and birch woodlands, old millstone quarries, and natural gritstone outcrops. Since the sun will set just before the course finishes , we should be able to get some great shots in golden hour light and at sunset if conditions permit.
Please contact us if you would like a booking form to reserve a place on this course.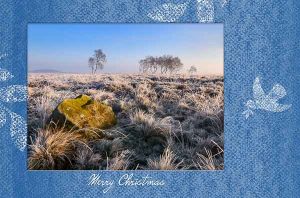 This Christmas, we are also offering a special gift voucher for our courses. Great value at £99.00, ordered online and valid for the whole of 2024, you can see full details here.
Exactly where we go will depend on the light and weather conditions on the day, but part of the time will be spent photographing the waterfalls and moving water in a delightful wooded valley, where you will have the chance to experiment with different shutter speeds and long exposures. You will need a tripod (but we have some that you can borrow if you don't already have one of your own), and we also have some sets of filters that you can borrow for use with the moving water and waterfalls. Here are some examples of photos taken by some of our clients on previous courses in this area:
millstones
and quarry faces, derelict
quarry buildings
, old
packhorse roads
, an
Iron Age hill fort
, and photogenic
gritstone edges
and
rock formations
. These will also open up options for
long exposures
with moving clouds if sky conditions are suitable.
The locations we will be using are all quite accessible, so we can spend the minimum amount of time walking to locations, and the maximum time actually taking photographs. They should be well within the capabilities of anyone who is reasonably fit (though this course is not suitable for people who have mobility problems). However, we will be on exposed moorland where the paths are often rough and uneven, and there will probably be some muddy and boggy areas, so stout footwear with good grip is strongly advised, as is appropriate outdoor clothing for the time of year.
"Thanks for Saturdays course which was a real eye opener. The small group setting was ideal for my learning needs and gave ample opportunity for questions and the ability to influence the curriculum underpinned that. With each course I take, I come away with a renewed enthusiasm, broader creative opportunities and greater photographic confidence. Well done and keep up the good work." Howard
This is an intermediate, rather than beginners' level course, so it is important that you are already familiar with the basics of photography and how to use your camera in other than the "all-automatic" mode. If you are not confident about how to use shutter speeds, lens apertures and ISO to control exposure, and how to focus your camera, please come on one of our beginners' digital photography courses first, where we teach those skills. See here for details of all the digital photography courses we currently have scheduled.
On our landscape photography courses, we concentrate less on what the buttons and dials on your camera do, and more on the creative side of photography. Subjects covered include:
composition for picture impact
creative use of lens apertures, shutter speeds and different types of lenses
how to get the colours looking the way you want them in your photos
tips for shooting in RAW format for maximum quality
shooting in fully manual (M) mode
how and when to use different types of filters on your lenses
correct tripod technique
Our landscape photography courses are most suitable for owners of digital slr or mirrorless cameras that have interchangeable lenses – whether they are a Nikon, Canon, Sony, Pentax, Ricoh, Panasonic, Olympus, Fuji, Samsung or any other make. Compact and bridge cameras may also be suitable, but some have certain limitations due to their small sensor sizes, and whether or not filters can be attached to them. Please contact us for advice or to request a booking form, or if you need any further information about this course.