As an alternative to group courses, many of our clients prefer to have personalised one to one training which can be carried out at a time and place to suit them – even in their own home working with their own computer. It can also be delivered via video link anywhere in the UK. See details of our one to one Lightroom training here.
Whether you are completely new to photo editing – or you are wanting to move from a basic photo editor to something more advanced – our Lightroom training will introduce you to this powerful software and show you some of the amazing things you can do with it. We can show you how to:
set Lightroom's preferences and customise the interface
safely download images from your digital camera and import them into Lightroom
view and organize your photographs within Lightroom's Library
quickly sort through your images to select the best ones
improve your images as a whole and in selected areas to make them "pop"
creatively convert images to black and white, and add tones to them
add special effects to enhance mood
automate tasks so you spend less time in front of the computer
export images to other software (such as Photoshop or third party plug-ins) to perform any specific tasks that Lightroom can't do
share your images via email or by posting them as web galleries
print your photos at home directly from Lightroom
Lightroom does all this while at the same time protecting your original files so that you never overwrite or degrade them (particularly important for JPEG shooters), and without you having to fill up your computer's hard drive with lots of extra copies in different file formats (particularly important for users with smaller capacity SSDs or laptops).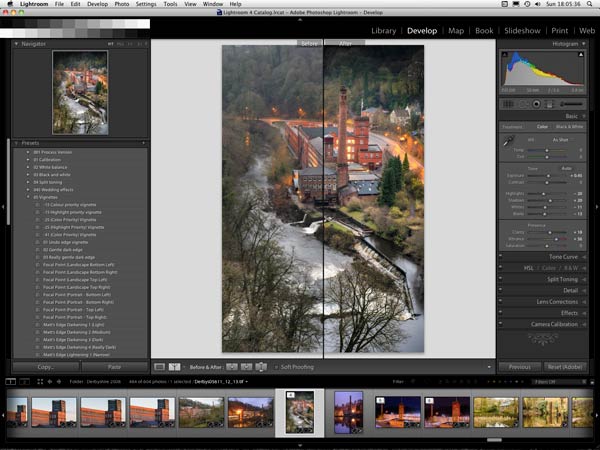 Many photographers say they just want their photos to look like the scene they saw when they took the picture. Unfortunately, due to the difference between camera sensors and the human eye, this is often not possible – and leads to disappointment with the results straight out of the camera. To take your images to the next level, you need to learn how to edit them. Fortunately, this has become easier in recent years as the software has improved and become more user-friendly, and Adobe Lightroom Classic is the software that we recommend as the best choice for photographers regardless of their level of experience.
Lightroom is part of a new generation of software for organizing, editing and sharing the large numbers of images that we create in the digital age. It was designed specifically for photographers – whether they shoot in JPEG or RAW format, or work on a PC or Mac computer.
Compared to traditional photo editors (such as Photoshop and Photoshop Elements), Lightroom's controls are much more intuitive – making it easier and quicker to learn. Our training will teach you to do things in Lightroom that it would take you days or weeks to learn how to do in Photoshop. Because it was designed specifically for digital photographers, Lightroom has none of the clutter that is irrelevant to their needs, so it's interface is more elegant and simplified. Yet it is powerful and flexible enough to meet the needs of both amateur and professional photographers, who find that they can do most – if not all – that they want to do within Lightroom. And for those occasions when you do need features that Lightroom doesn't have, it integrates extremely well with traditional editors (such as Photoshop or Photoshop Elements) – as well as an ever-growing number of third party software plug-ins.
If you would like to be kept informed of all the courses we are running, please sign up to our newsletter, and you will be notified as soon as new course dates are announced.