Saturday June 17th – 10.00am to 6.00pm.
Cost £99.00 per person.

Fully booked.
This course will be limited to just four photographers – so everyone will receive plenty of individual attention and get their questions answered. Please contact us if you would like to be sent a booking form.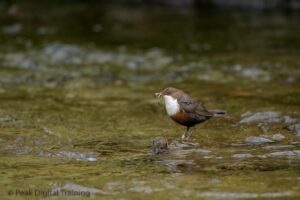 Lathkill Dale (most of which is a National Nature Reserve) has a fantastic range of subjects for us photographers – from the numerous weirs used to manage the water levels on the river, to waterfalls, woodlands, caves, impressive limestone cliffs and many species of beautiful flora and fauna.It has also been the scene of industrial activity for hundreds of years, and the remains of the two largest lead mines are today a Scheduled Monument for their significance. One of them still has the parts of a large steam engine house standing, while the visible remains of most of the other features have been made more attractive for photography by being reclaimed and softened by nature during the 170 years since mining here finished.
We will spend the morning in the bottom part of the dale, photographing the series of weirs which are perfect for practising shooting moving water with different shutter speeds. A tripod will be needed for this (but we have some that you can borrow if you don't already have one of your own), and we also have some sets of filters that you can borrow for use with the moving water to enable you to get some nice long exposures to blur the water.
After lunch (not included in the course price) either at the Lathkil Hotel in the nearby village of Over Haddon or another nearby pub, we will go to a different part of the dale – to be decided according to peoples' preferences and the weather on the day. Because the valley is long and narrow with few access points, there may be a bit more walking involved than usual, but it will still not be more than a mile, and it is mostly easy walking on good tracks or footpaths.
If we decide to go to the top end of the dale, there are fine views to be had looking down from the top of the valley side – where the impressive limestone cliffs catch the late afternoon sunlight. This is where we will be able to photograph the extremely rare Jacobs Ladder flower. Lathkill Dale is one of the very few places in Britain where it grows, and one side of the dale is specially managed to protect it.
The paths here do require a bit more care, and there are a few stiles to cross as well, but the walking will still be well within the capabilities of most people, and not longer than about 15 minutes' duration.
As this is an intermediate – rather than beginners' level – course, it is important that you are already familiar with the basics of photography and how to use your camera in other than the "all-automatic" mode. If you are not confident about how to use shutter speeds, lens apertures and ISO to control exposure, and how to focus your camera, please come on one of our beginners' level digital photography courses first, where we teach those skills.
The course is suitable for any type of digital stills camera that allows you to control the settings – particularly shutter speeds and apertures. The most suitable are digital slr or mirrorless cameras that have interchangeable lenses, but some compact and bridge cameras may also be suitable (though some may have certain limitations due to their small sensor sizes, and whether or not filters can be attached to them). Please contact us for advice if you are unsure whether your camera is suitable.
Subjects covered on this course may include:
composition for picture impact
creative use of lens apertures, shutter speeds and different types of lenses
how and when to use different types of filters on your lenses
how to get the colours looking the way you want them in your photos
tips for shooting in RAW format for maximum quality
shooting in fully manual (M) mode
correct use of tripods
Please contact us to request a booking form, or if you need any further information about this course.
We also run landscape and beginners' level courses in other local areas. See here for details of all our other digital photography courses near Sheffield and in the Peak District.