Our next landscape photography courses will be taking place on:
Saturday October 19th 10.30am – 6.30pm. Autumn colours in the Peak District.
Saturday November 30th 9.30am – 4.30pm. Waterfalls in autumn.
Please scroll down for more details about each individual course.
These intermediate level courses will each be limited to just 4 people, allowing everyone to get plenty of individual attention. Places cost £85.00 per person (not including food or drink) – click here to request a booking form, or if you need any further information.
As these are all intermediate level rather than beginners' level courses, it is important that you are already familiar with the basics of photography and how to use your camera in other than the "all-automatic" mode. If you are not confident about how to set correct exposure, use exposure compensation, read histograms, and set the exact point of focus, please see here for details of our beginners' level digital photography courses where we teach those skills.
On our landscape photography courses, we concentrate less on what the buttons and dials on your camera do, and more on the creative side of photography. Subjects covered can include:
composition for picture impact
creative use of lens apertures and shutter speeds (including long exposures)
how to get the colours looking the way you want them in your photos
tips for shooting in RAW format for maximum quality
shooting in fully manual (M) mode
how and when to use different types of filters on your lenses
correct tripod technique
Our landscape photography courses are most suitable for owners of digital slr, mirrorless or any type of camera that has interchangeable lenses – whether it is Nikon, Canon, Sony, Pentax, Panasonic, Olympus, Fuji, Samsung or any other make. Compact and bridge cameras may also be suitable, but they may have certain limitations due to their small sensor sizes, and whether or not filters can be attached to them. Please contact us for advice if you are unsure whether your camera is suitable.
A tripod will also be essential, but we have several for loan if you don't already have one, and we also have a selection of filters (neutral density, graduated neutral density and polarising) that you can borrow as well.
If these dates are not convenient for you, why not consider some one to one photography training at a place and time that best suits you?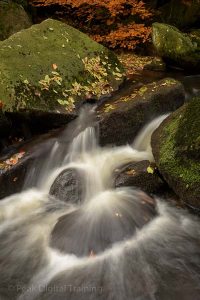 The course on October 19th is taking place in the area around Fox House and Surprise View to capture the wonderful display of autumn colours to be found here (the photo at the top of this page was taken on one of our courses here by Mike Bayley). The oak and birch woodland provide beautiful golden colours which enhance the waterfalls, gritstone edges and rock formations in the area. There should also be a good range of fungi at this time for those interested in macro photography.
We will spend part of the day photographing waterfalls in the woodland, exploring long exposure techniques for creative effect. After lunch in a local pub or tearoom, we will go out on the moors to take advantage of the lengthening shadows and warm colours of the evening light. We will have fine views along the Hope Valley (a good place for photographing shafts of light through the clouds), and impressive rock formations which are best captured in "golden hour" light, as they mainly face towards the setting sun. We will stay out until sunset (which is at 6pm), photographing the wide range of subjects that are available to us – including hundreds of abandoned millstones and disused gritstone quarries, a stone circle, Iron Age hillfort or old packhorse roads. Because the area is relatively accessible, the walking on this course will be kept to a minimum – to give us maximum time for
photography. However, we will be on moorland, so the paths are by nature rough and uneven, and there could be some muddy and boggy areas. The walking will, however, be relatively gentle and should be well within the physical abilities of most people – and no longer than about 15 minutes' walk to get us to any of the areas that we will be using.
Like all outdoor photography courses, where we go and what we photograph will depend on the weather and light conditions on the day. But even if conditions are overcast we will still have plenty of subjects to try out techniques such as long exposures.
---
Our November 30th course is being held in a sheltered little valley near Matlock. The valley drops almost 200ft in height over just a few hundred yards, so it boasts some of the finest waterfalls in the whole of Derbyshire. The stream has also been used to provide water power since at least the C17th, and there are extensive remains of 6 mills in the valley – which has resulted in it being listed as a scheduled ancient monument. The mill buildings are built of local gritstone, and preserved in a state of "picturesque decay" -provide some excellent subject matter in themselves. All of this is enhanced by the wonderful colours of autumn – with plenty of beech trees to provide a golden carpet of leaves. Here are a series of photos taken on a previous course by Laura Wharton:
golden hour
and past
sunset
time before the course finishes at 4.30pm.