Saturday, October 16th from 10.30 am to 6.30 pm. £95.00 per person.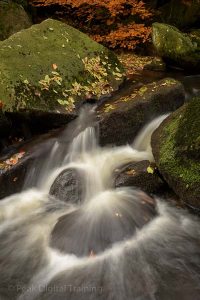 This intermediate level landscape photography course has been timed to take full advantage of the wonderful colours of autumn, and will be held on the moors above Hathersage in the Peak District (close to the border with Sheffield). The course is accessible by public transport.
This part of the Peak District offers a wonderful range of subjects – including waterfalls, colourful oak and birch woodlands, old millstone quarries, and natural gritstone outcrops. For those interested in close-up and macro subjects, there should also be plenty of interesting fungi at this time of year.
The course will start at 10.30 am, and run until 6.30pm – which is just after sunset time. To allow all participants to get plenty of individual attention and for adequate social distancing, this course will be limited to just four photographers, with places costing £95.00 each.
Please contact us if you would like to request a booking form to reserve a place on this course. Continue reading "Autumn Landscapes in the Peak District"