Saturday, November 1st – at Cromford village, Derbyshire. 10.00 am to 5.00 pm.
Because some of the locations where we will be photographing have limited capacity, this course will be limited to just 4 persons, with places costing £75.00 each. Contact us if you would like us to email you a booking form.
Join us for a special one day intermediate level course which will concentrate on photographing subjects from Derbyshire's industrial past. It is being held at Cromford village (just south of Matlock on the A6), which is one of the cradles of the industrial revolution – as reflected in its status as a World Heritage Site.
There will be a wide range of subject matter for us to photograph on this course. We will be doing some architectural photography with subjects including Arkwright's 18th century cotton mills, workers' housing, the Cromford Canal with its associated buildings, and the second oldest railway workshops in the world.
You will also learn some particular techniques for photographing the huge steam engine which will actually be working on the day, presenting both opportunities and challenges for your photographic skills. The nearby railway workshops still look much as they would have done when they were working, with original tools and equipment for you to practice still life and macro photography. And there will also be miniature traction engines, traditional craft displays and other activities to photograph.
As well as all that, there is the beautiful Cromford Canal – which should be looking particularly stunning with the autumn colours – and the horse-drawn canal boat, which will also be making trips on the day.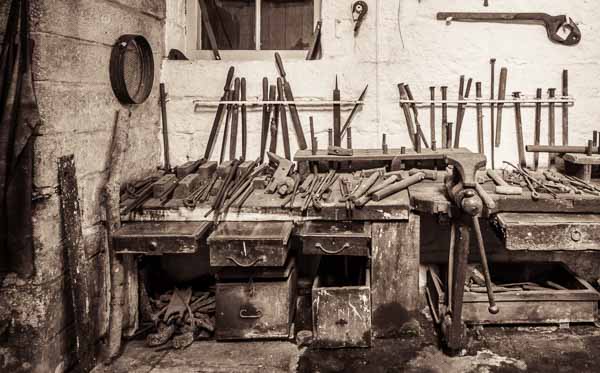 The day will involve some walking – mainly along the canal towpath – but it will not be at all strenuous. For lunch, there are numerous cafes and pubs to choose from – or you can bring a packed lunch if you prefer.
If you would like to reserve one of only 4 places available on this course, please contact us to request a booking form. Places cost £75.00 each.
As this is an intermediate level course, it is assumed that you are already familiar with the basics of photography and how to use your camera in modes other than "all-automatic". If you are not confident about how to set correct exposure, read histograms, and set focus, please see here for details of our digital photography for beginners courses which would be more suitable for you. If in doubt, please contact us for advice.